My practice interconnects media; combining found objects, video, textile, painting, collage, and generative art in cacophonous installations. I explore domestic space through collections of altered-artifacts and video projections, invoking textures that hover between quotidian familiarity and uncanny discomfort. 
My installations invite the viewer to be overtaken by the metamorphosed contents of a "living" room. Fundamentally, my practice is process-oriented, material-informed creation. Patterns are transferred from one piece to the next, repeated and translated across media and transposed across found objects. 
Representations of domesticity invoke the conceptual relationship between women and interior space—from the contemporary condition, back to the edge of modernity. My work offers a subtle homage rather than an explicit critique, collecting pieces of the Victorian woman as home-personification and the mid-century woman as home-consumer. These fragments are woven into the work through contrasting stylings of antiques, feminized ornamentation, and interpretations of textile practices as art objects. 
The building blocks for my visual exploration exist in the inherent familiarity of the contents of a home. A disconcertion comes with the recognition of the regular, now remoulded and presented in a way yet unseen. My work evokes the nostalgic sensibilities of an antique captain's chair, the unclear story played out by silhouettes behind a frosted window, the conflicting sensation of rough-but-soft wool against your skin. Domestic textures, a fabrication of a fantasy, and the uncomfortable abundance of objects spilling out of our lives.
Top image: Quilt, 2023. Found upholstery samples and bedsheet. 92″ x 72″ x 0.2″.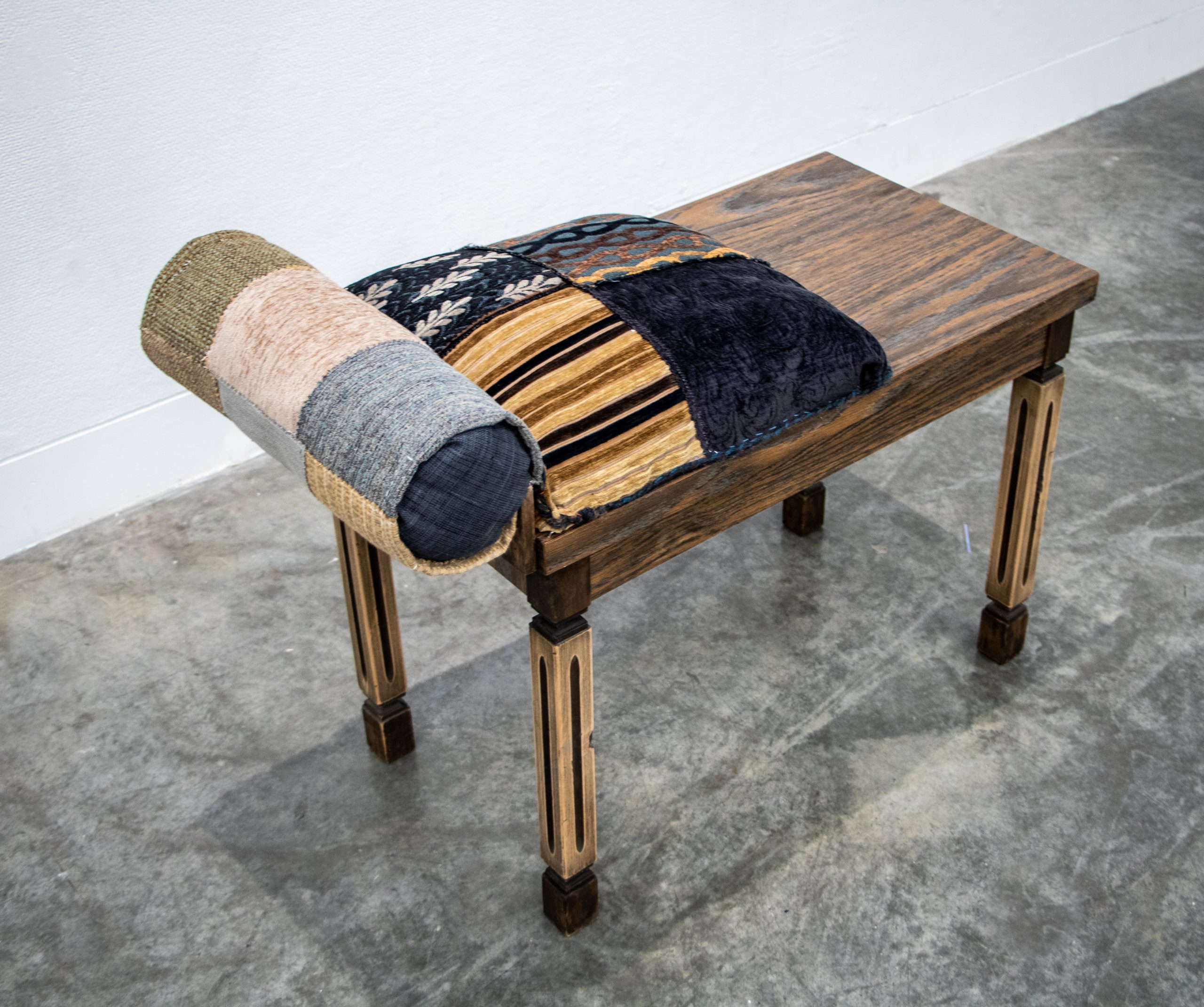 Stool, 2023. Found wood and veneer table, upholstery samples, yarn, and synthetic stuffing. 32″ x 21.5″ x 16″.
Staged, 2023. Installation. Dimensions variable. Video projection, organza, found furniture, yarn, upholstery samples, glass and metal vases, acrylic, fake plant, plinths, and various textile.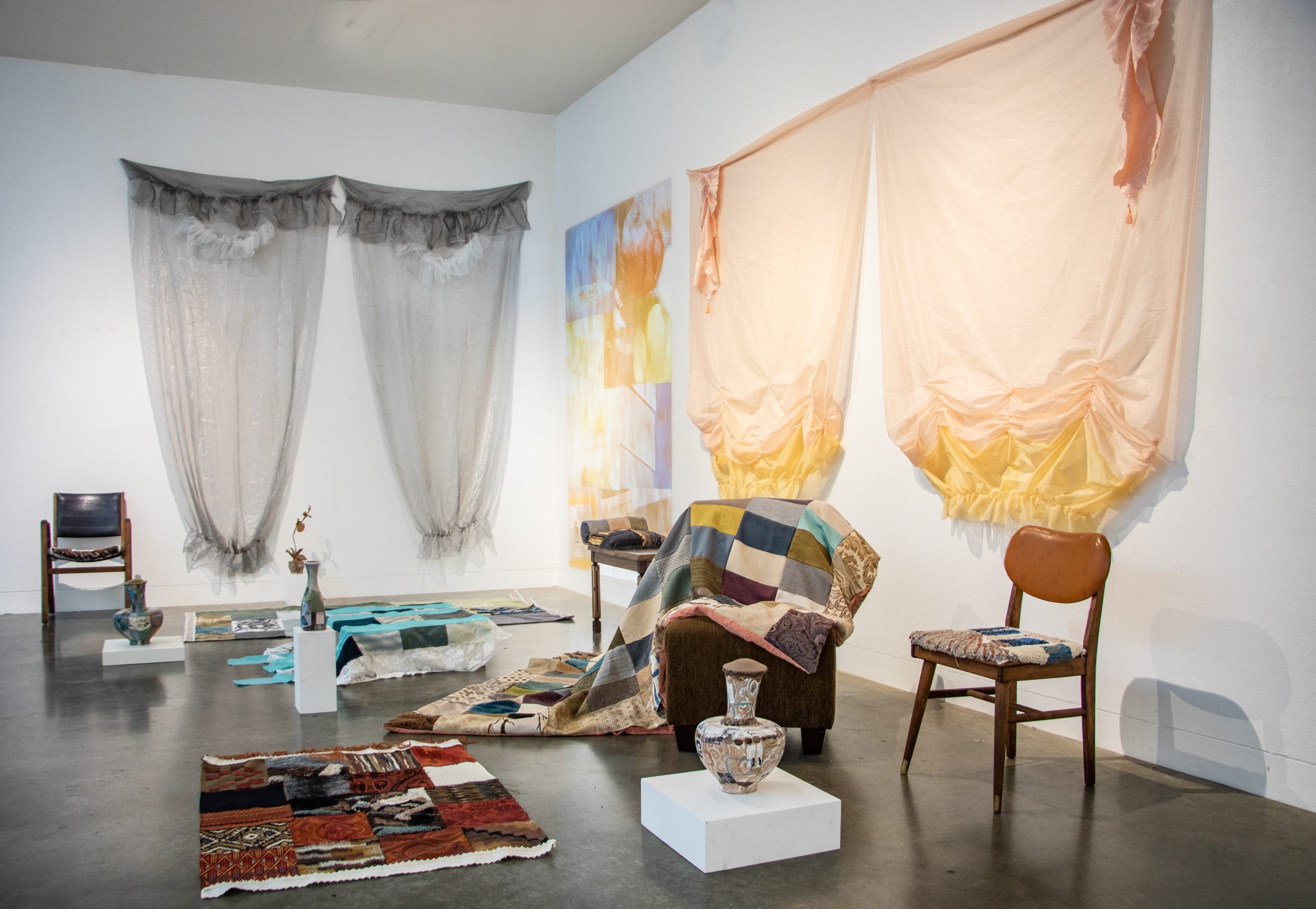 Kiera Ariano is a multidisciplinary artist from "Coldstream, BC" located on the unceded territory of the Syilx Okanagan Peoples. In 2017, Ariano was awarded the Helen Pitt Fund for Fine Arts to pursue her education. Ariano began her BFA studies at the University of Ottawa, where she established foundations in painting and art history while developing an interest in video and interactive media arts that would become the building blocks of her installation practice. Between semesters in 2020, Ariano interned at the Vernon Public Art Gallery and curated a hybrid online and in-person exhibition to showcase emerging artists. During the pandemic, Ariano relocated and transferred to the BFA program at the University of Victoria. In these final years of her degree, she has had opportunities to showcase her work both through the university and in the Southern Vancouver Island arts scene. She will graduate with honours in spring 2023.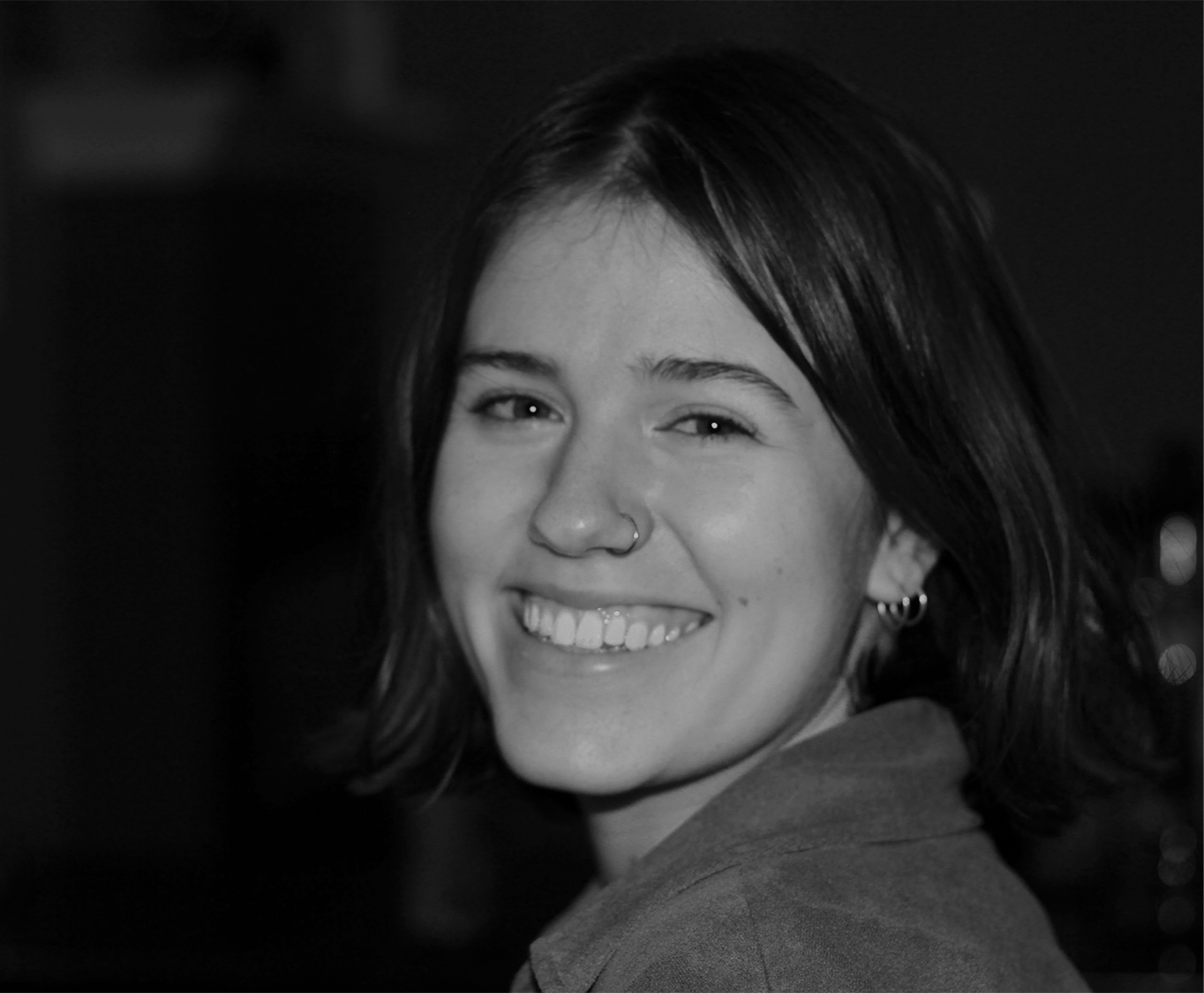 Don't need to know to feel it